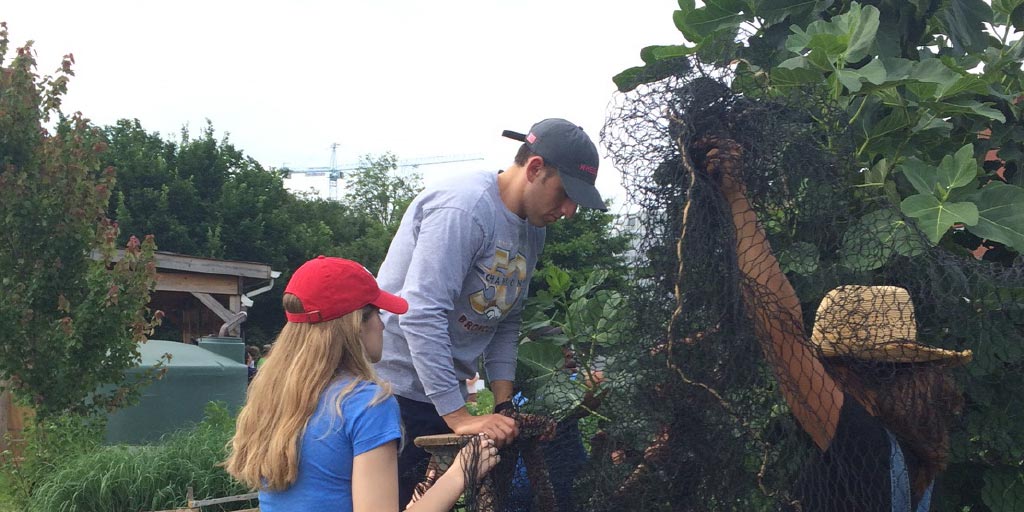 One Community
One Community Volunteer Program
Carlyle's One Community program encourages employees to volunteer not only at national or global organizations, but also in their own local communities. This year our colleagues shared their time, talent and resources with a variety of international charitable organizations—working to improve the communities where they live and invest.
Global Volunteer Month and Sprint Volunteering
Employees from across the globe volunteered with 11 different organizations during Carlyle's fifth annual Global Volunteer Month.
Washington, DC, and Rosslyn, Virginia, U.S.A. Employees volunteered with a range of organizations:
Served meals and cleaned facilities at So Others Might Eat (SOME), a local organization that cares for the homeless.
Prepared meals for families living at Ronald McDonald Houses in Washington, DC, and Northern Virginia.
Helped the National Zoo with outdoor projects in the horticulture department.
Coordinated a group birthday party with veterans living and recovering at the VA Hospital in Washington, DC.
Worked at Junior Achievement Finance Park to help lead a "day-in-the-life" simulation with elementary school students where volunteers guided students to make real-life financial decisions.
Thirty employees volunteered for a seventh consecutive year with Junior Achievement's "JA in a Day" program to teach financial literacy to kindergarten through fifth-grade classes in a Washington, DC, elementary school.
London. Fifteen London colleagues ran in the JP Morgan Corporate Challenge benefiting Age UK, an organization that supports the elderly. Volunteers conducted a resume workshop for young people alongside Thinkforward, an organization that supports at risk youth transition from education to employment. Employees held a bake sale with proceeds benefiting Macmillan Cancer Support. The office also worked with Fight for Peace to secure a three-week work placement within the London IT department.
Hong Kong. Volunteers prepared meal boxes for Food Angel, a food rescue and assistance program that provides meals for underprivileged communities in Hong Kong.
Mumbai. Employees organized a donation drive partnering with Green Yatra, an NGO that distributes clothing and other daily necessities to urban areas and urban slums throughout India.
Season of Giving
Every November and December, Carlyle employees across the globe participate in a variety of volunteer events and giving opportunities during the holiday season. This year volunteers donated their time and resources to help the communities where we live, work and invest.
Washington, DC, and Rosslyn, Virginia. Employees delivered groceries with Martha's Table; helped serve meals and donated over 200 holiday boxes to SOME; worked with House with a Heart Pet Sanctuary to care for the animals and clean the facility; prepared meals for families living at Ronald McDonald House; led real-life simulation for children at Junior Achievement Finance Park; hosted a group birthday party for veteran's at the Washington, DC, VA Hospital; and donated gifts to the local Boys & Girls Club.
New York. Colleagues held a holiday toy drive during which they collected toys for over 100 students from a local elementary school.
London. London employees donated gifts to the children at Evelina London Children's Hospital; donated nearly $12,000 through an office raffle and baking competition to Royal Trinity Hospice; and collected winter coats at local railway stations for Wrap Up London.
Hong Kong. Employees helped clean the Komazawa Olympic Park in Tokyo; spent two days cleaning the Tokyo Wild Bird Park; volunteered at a soup kitchen with Second Harvest Japan; participated in the Special Olympics Walk & Run Festival; provided administrative support for the Japan International Volunteer Center and the Japan Emergency NGO; collected donations for Operation Santa Claus and helped students at a local primary school with their homework.
A Commitment to Sharing Wealth
Our Wealth Sharing Program supports Carlyle employees in their charitable giving by matching on a dollar-for-dollar basis contributions made to educational and humanitarian organizations. In the United States, Carlyle matches up to $2,000 per year per employee. In 2016, Carlyle matched nearly $300,000 in employee gifts. A similar matching program in the United Kingdom raised $30,000 in 2016.
IT Environmental Improvements
In 2016 we continued to reduce our environmental impact through a number of IT-related initiatives:
Recycled 130 computers, 100 monitors, 35 pieces of networking equipment, 35 printers and 50 servers.
Reduced equipment power consumption and cooling requirements by moving from physical to virtual servers.
Applied automatic turn-off settings on equipment such as monitors, printers and computers.

New Microsoft Surface computers reduce personal computing energy consumption by 33% by decreasing the time for the computer to enter sleep mode from 30 minutes to 20 minutes.
During our VC/telecom refresh we configured all of our audio -visual equipment to use 15- to 20-minute timeout intervals.
All new and retrofitted conference rooms have occupancy sensors that turn off lights if rooms are empty.

Purchased energy-efficient audio visual equipment.
Reduced power requirements and cables by moving to a wireless environment.
Eliminated print servers by using IP-based printing technology and reduced printer costs through tablets and touch technology.
Moved to compact storage arrays that reduce storage footprint while cutting down on power and cooling requirements.
Recycled and reduced server footprint by 53 servers, further reducing power and cooling requirements.
Eliminated 20 PBX instances across USA and EMEA.