Transparency in Focus
Corporate Citizenship 2016
At Carlyle, we're clearly focused on responsible investing, sustainability and making transparency part of everything we do.
Being a good corporate citizen starts with responsible investing. That means carefully considering the environmental, social and governance (ESG) implications of our investments. It means seeking opportunities to create value through sustainability efforts and increasing visibility into how a company incorporates ESG activities throughout its operations.
Corporate citizenship also means applying our One Community initiative to cultivate diverse teams and encourage employees to get involved in their communities through our volunteer and wealth sharing programs.
Improving energy and operational efficiency can deliver better financial performance. That's certainly true for RAC, the second-largest roadside assistance provider in the U.K. During Carlyle's ownership, RAC made numerous energy efficiency improvements, such as cutting energy consumption per breakdown service for its vehicle fleet, a change that reduced carbon emissions and contributed to EBITDA growth.
MORE
A Message from the Founders
Improved transparency reveals how integrating sustainability activities throughout the investment life cycle—from due diligence to exit—can create value.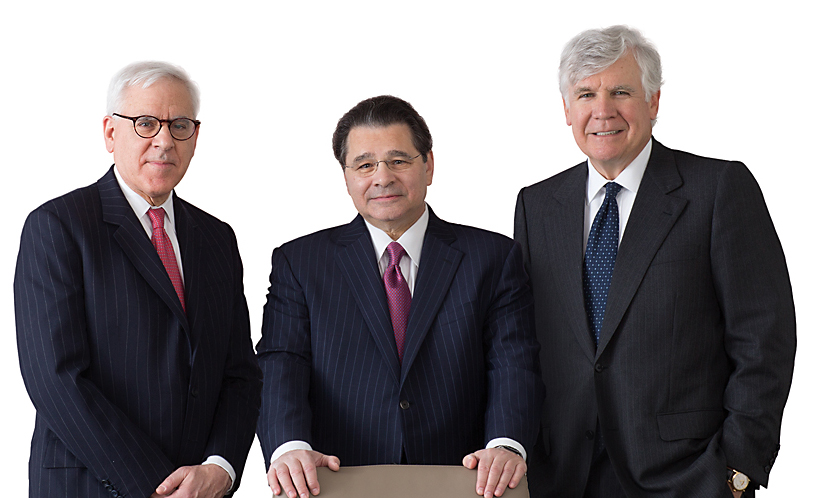 David M. Rubenstein
Co-Chief Executive Officer
Daniel A. D'Aniello
Chairman
William E. Conway, Jr.
Co-Chief Executive Officer
Carlyle's Founders
SUSTAINABILITY MATTERS at Carlyle. It's good for our investors, good for the environment, and good for employees and consumers.
Eight years ago, we developed and implemented Responsible Investment Guidelines, and the Private Equity Growth Capital Council adopted a similar set of guidelines the next year; six years ago we published our inaugural citizenship report, the first by a major private equity firm; and two years ago we hired our first Chief Sustainability Officer, Jackie Roberts, increasing our ability to make progress in this vital area across our global portfolio.
In this, our sixth Corporate Citizenship Report, we examine how sustainability supports four areas critical to the success of our portfolio companies: customer relationships, brand equity, operational efficiency and workforce strength. Our last two citizenship reports offer almost 30 examples of sustainability adding value in these four areas, representing more than 20% of our controlled, corporate buyouts.
Among the many case studies in this report, two in particular exemplify how Carlyle helps our portfolio companies better harness sustainability to improve products, respond to customer needs, create value and improve the bottom line.
Vogue International, a U.S. buyout portfolio company that manufactures personal care products, has increased its commitment to transparency, developed healthier ingredients, expanded its use of greener packaging and started reporting to CDP, formerly known as the Carbon Disclosure Project. In addition to creating better products, these changes have moved Vogue into or near the top quartile on sustainability indexes for its major customer, Walmart, which is critical as other customers, including Target, also evaluate supply chain sustainability.
Yakjin Trading Company, an Asia growth investment that manufactures knitwear, significantly expanded its sustainability and transparency efforts in 2014 and 2015. Yakjin appointed a senior executive to lead its sustainability initiatives; improved oversight of production facilities in Vietnam, Cambodia and Indonesia; published its first corporate social responsibility report; and, perhaps most importantly, developed new channels for management-labor dialogues and new worker benefits in Cambodia.
As you will see, transparency is a central theme of this year's report. Visibility into sustainability initiatives is important for the customers, competitors and employees of many of our portfolio companies. We also want to provide investors with greater visibility into the sustainability performance of our portfolio companies. Much work still needs to be done, and we are focused on continuing to be leaders in this area. Transparency with our limited partners has been and continues to be a priority at Carlyle. We were also among the first private equity general partners to endorse and support new investor fee reporting guidelines released by the Institutional Limited Partners Association (ILPA) in January 2016.
Our Chief Sustainability Officer, Jackie Roberts, provides expert guidance and support to our investment teams and portfolio companies on a variety of sustainability and ESG issues. Jackie has 20 years of experience at senior levels in the environmental community and has worked with global companies to improve their environmental performance and sustainability efforts. She brings a new perspective to our deal teams and portfolio companies.
While every company is different and one size doesn't fit all, we're asking new questions across the board. As we identify important sustainability issues, we monitor new areas and, where appropriate, work with our portfolio companies to exchange best practices as an extension of our One Carlyle culture. In every case, we support our portfolio companies' internal capabilities to manage ESG issues so that sustainability value remains with the company and continuous improvement is not only possible, but highly likely.
Complementing our sustainability efforts is our commitment to give back to our communities through our Global Volunteer and Wealth Sharing Programs. In 2015, Carlyle professionals used their time, talent and treasure to make a positive impact in the communities in which they live and work: teaching at inner city schools, feeding the homeless, beautifying public parks and financially supporting community groups. The firm is proud to support these efforts.
Our purpose is to invest wisely and create value for our investors. We believe that our commitment to sustainability, ESG management and philanthropy is an important part of fulfilling that purpose.
We are grateful for and humbled by the faith and trust you continue to place in us.

William E. Conway, Jr.
Co-Chief Executive Officer

Daniel A. D'Aniello
Chairman

David M. Rubenstein
Co-Chief Executive Officer