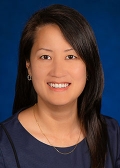 Youlee Kim Nishimura is a Principal focused on U.S. real estate opportunities. She is based in Washington, DC.
Prior to joining Carlyle, Ms. Nishimura was a Vice President at the J.E. Robert Companies, where she focused on finance, treasury and investor reporting/relations for their real estate private equity funds and public REIT. Prior to that, she served as an assistant controller at start-up technology firms and as an audit senior at Arthur Andersen.
Ms. Nishimura received her BS in accounting from University of Maryland, College Park. He is a certified public accountant.