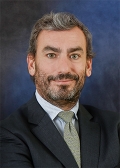 Vladimir Lasocki is a Managing Director and Co-Head of the Carlyle Europe Technology Partners investment advisory team. He is based in London. Mr. Lasocki joined Carlyle in 2000, and his sector expertise includes telecommunications hardware and services, enterprise software, healthcare and business services.
Prior to joining Carlyle, Mr. Lasocki was an Associate with Deutsche Bank's principal investments group 1998 to 2000. He was a member of the investment team responsible for a number of successful technology investments, including, among others, Cocom in Denmark (acquired by Cisco), Orchestream in the United Kingdom, and Xacct Technologies in Israel (acquired by Amdocs). Mr. Lasocki started his career in corporate finance for Banque Paribas in London and Prague.
Since joining Carlyle, Mr. Lasocki has advised on 14 major investments and nine completed realizations. He has been a Managing Director of Carlyle Europe Technology Partners since 2009 and Co-Head since 2017. Mr. Lasocki is a member of the boards of LPG Systems, HGH Infrared Systems, Prima Solutions, Marle and Evernex.