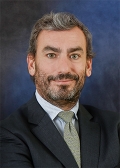 Vladimir Lasocki is a Managing Director and Co-Head of the Europe Technology advisory group. He is based in London.
Since joining Carlyle in 2000, Mr. Lasocki has been actively involved with Carlyle's investment in current portfolio companies Evernex, Marle, Expereo and Prima Solutions. He has earlier been responsible for Carlyle's investments in Egencia (acquired by Expedia), Orthogon Systems (acquired by Motorola), Cameca (acquired by Ametek), Transics (NYSE:TRAN), Metrologic (acquired by Astorg Partners) and Marle (acquired by IK Investment Partners), Companeo (acquired by Infopro Digital), The Sniffers (acquired by WTS); and was a deal team member and director of Wall Street Institute (acquired by Pearson).
Prior to joining Carlyle, Mr. Lasocki was an Associate with Deutsche Bank's principal investments group and with the corporate finance group of Paribas in London and Prague.
Mr. Lasocki has a degree in business administration from EM Lyon and the Université Libre de Bruxelles (Solvay Business School) and an M.A. in European economic studies from the College of Europe in Bruges.