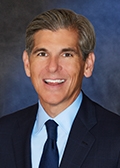 Tyler Zachem is a Managing Director and Co-Head of Carlyle Global Partners, as well as Co-Chair of the Carlyle U.S. Equity Opportunity Fund Investment Committee. He is based in New York City.
Prior to joining Carlyle in 2015, Mr. Zachem was Chief Executive Officer and Founding Partner of Broad Sky Partners, a middle market, sector-focused private equity firm. Prior to Broad Sky, Mr. Zachem was a Managing Director of MidOcean Partners, where he also served on its Management Committee and Investment Committee. 
Prior to MidOcean's inception, Mr. Zachem was a Managing Director at DB Capital Partners. Mr. Zachem began his private equity career at McCown De Leeuw & Co. Throughout the course of Mr. Zachem's investment career he has been a Director and Chairman of numerous company boards.
Mr. Zachem earned his MBA from Harvard Business School and graduated from University of Rochester.