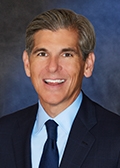 Tyler Zachem is a Managing Director and Co-Head of Carlyle Global Partners, as well as Co-Chair of the CEOF Investment Committee. He is based in New York City.
Carlyle Global Partners seeks to deliver attractive risk-adjusted returns on significant sums of capital over a longer timeframe than typical private equity funds, thereby creating substantial longer-term appreciation.
Prior to joining Carlyle in 2015, Mr. Zachem was CEO and Founding Partner of Broad Sky Partners, a middle market, sector-focused private equity firm. Prior to Broad Sky, Mr. Zachem was a Managing Director of MidOcean Partners where he also served on its Management Committee and Investment Committee. 
Prior to MidOcean's inception, Mr. Zachem was a Managing Director at DB Capital Partners.  Mr. Zachem began his private equity career at McCown De Leeuw & Co. Throughout the course of Mr. Zachem's investment career he has been a Director and Chairman of numerous company boards.
Mr. Zachem earned his MBA from Harvard Business School and graduated from University of Rochester.