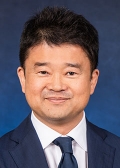 Tomofumi Matsuyama
Industry
Technology & Business Services
Telecom & Media
Tomo Matsuyama is a Managing Director based in Tokyo, where he focuses on investment opportunities in larger companies. He is also Co-Head of technology, media and telecommunications practice for the Japan Buyout team.
Prior to joining Carlyle in 2018, Mr. Matsuyama was a Managing Director and Head of Japan's Technology and Industrials Group at Morgan Stanley. During his 14-year tenure at Morgan Stanley, he advised a broad range of companies in Japan, the United States and Asia on their most important strategic initiatives. Mr. Matsuyama led various transactions on public and private takeovers, cross-border mergers and acquisitions, corporate separations, activist defense, IPOs, follow-on equity offerings, underwritings of convertible bonds and senior/ mezzanine debt.
Mr. Matsuyama started his career at The Sumitomo Bank (currently known as "Sumitomo Mitsui Banking Corporation"), where he was based in New York for three years and spent four years at its investment banking joint venture with Daiwa Securities.
Mr. Matsuyama earned a BA in international business from Sophia University.