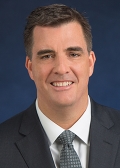 Thomas B. Mayrhofer is a Managing Director at The Carlyle Group.  He is also the Chief Financial Officer of Carlyle's Corporate Private Equity Segment which represents approximately $55 billion of assets under management globally in Carlyle's Buyout and Growth Capital Funds.  Mr. Mayrhofer is based in Washington, DC.
Since joining Carlyle in 2000, Mr. Mayrhofer has held a number of positions.  His initial responsibility at Carlyle was to serve as the Fund Controller for Carlyle's investment funds in Asia as Carlyle launched and expanded this business. Subsequent to this role, he worked extensively on operational aspects associated with Carlyle's acquisition of Hawaiian Telecom, the incumbent local exchange carrier in the State of Hawaii.
From 2006 to 2008, Mr. Mayrhofer was responsible for Corporate Development at Carlyle and worked on a number of corporate transactions including the sale of a portion of the Firm to the Mubadala Development Corporation in 2007.
Mr. Mayrhofer was the head of Carlyle's Partnership Accounting group during 2009 and 2010 and was appointed to his current role in January, 2011.
Prior to joining Carlyle, he worked at Arthur Andersen LLP in the Real Estate and Hospitality Group. 
Mr. Mayrhofer graduated from the College of William and Mary with a B.B.A. in Accounting in 1995. 
He is a CPA and a CFA charterholder and serves on the Advisory Board of the Accounting Program at the Mason School of Business at the College of William and Mary.