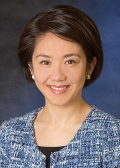 Shirlene Song is a Managing Director focused on real estate opportunities in China. She is based in Shanghai.
Prior to joining Carlyle, Ms. Song was a member of the Principal Transaction Group at Morgan Stanley in New York, where she focused on originating commercial real estate debts. Prior to that, Ms. Song worked as a business analyst at JP Morgan Chase.
Ms. Song graduated summa cum laude from Cornell University and received her M.B.A. from Harvard Business School.