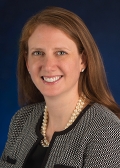 Shelley Guiley is a Managing Director in the Investor Relations Management group. Ms. Guiley is based in Washington, D.C.
Prior to joining Carlyle, Ms. Guiley was a Senior Vice President and the Director of Investor Relations at Allied Capital Corporation where she managed the firm's relationships with institutional and individual investors. Prior to that, she was employed by Capital One Financial Corporation and Price Waterhouse LLP.
Ms. Guiley earned her B.S. in commerce from the University of Virginia and an M.B.A. from The Tuck School at Dartmouth College.
She is a licensed CPA and has held a Series 82 license since April 2011 and a Series 63 license since November 2011. Ms. Guiley maintains DC registration.