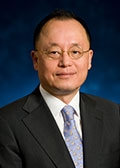 Seok-Don Chu
Location
Hong Kong, China
S.D. Chu is a Managing Director responsible for investor relations. He is based in Hong Kong.
Mr. Chu joined Carlyle in 2012 from Credit Suisse Asset Management Division, where he was responsible for institutional distribution and client coverage for more than four years, based in Hong Kong and Seoul. Prior to Credit Suisse, he worked for Citibank Korea Inc. as Chief of Staff and Business Development Manager of Fixed Income Currencies and Commodities. He was Product Development Head for Citi Private Bank. He worked for Midas International Asset Management as Head of Alternative Investments and was a member of the Board of Directors. Previously he worked for UBS, The First National Bank of Chicago and Dresdner Kleinwort Wasserstein based in Tokyo, as well as Citibank N.A. Hong Kong and Seoul, in the fields of structured products and investor marketing.
Mr. Chu graduated from Seoul National University with a BBA and received his master's degree from the Graduate School of Seoul National University.