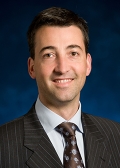 Sebastien Bourgeois is a Director focused on the asset management of real estate properties in France. Mr. Bourgeois is based in Paris.
Since 2006, Mr. Bourgeois has been actively involved with Carlyle's investment in the 3 current European real estate portfolios and is in charge of office development projects such as Imprimerie Nationale in Paris, Evergreen in Montrouge or Air 2 Tower in Paris La Défense.
Prior to joining Carlyle, Mr. Bourgeois was a Project Manager at Jones Lang LaSalle for five years and was in charge of construction and renovation projects.  Prior to this, Mr. Bourgeois was a Project Manager for Constructa US in charge of the construction of a Sofitel Hotel in Washington, DC. 
Mr. Bourgeois is a civil engineer and graduated from ESTP in 1998. He has a postgraduate degree taken after Masters in Real Estate from Paris Dauphine University and Marne la Vallée University.