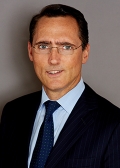 Sebastiano Riva is a Managing Director and Head of Fixed Income Sales in Carlyle Global Credit.  Mr. Riva's primary focus is on the broadly syndicated and middle market loan businesses as well as other liability management initiatives.  
Prior to joining Carlyle, Mr. Riva was at Wells Fargo Securities in charge of global marketing of new issue CLO.  Mr. Riva started his structured finance career at Bankers Trust in the late 1990s and has also held positions at DLJ, TD Securities, and Lehman Brothers.
Mr. Riva received his B.S. inEconomics from the Wharton School of the University of Pennsylvania.