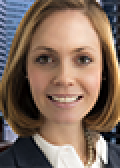 Sarah Schwarzschild is a Managing Director of Metropolitan and a senior member of the investment team. Mrs. Schwarzschild is responsible for the Firm's real estate Secondary efforts, including the sourcing, evaluation, and execution of investment opportunities globally.
Prior to joining Metropolitan, Mrs. Schwarzschild led Partners Group's real estate Secondary team in the U.S., where she was responsible for acquisitions as well as the portfolio management of Partners Group's dedicated real estate Secondary capital totaling over $2 billion. In addition, she was involved in management and business development activities for the real estate Secondary practice globally. Prior to joining Partners Group, Ms. Schwarzschild was an Assistant Vice President in the acquisitions team in the Global Opportunity Funds group at RREEF. She began her career at Rothschild as an investment banking analyst in the Mergers & Acquisitions and Private Placement groups.
Ms. Schwarzschild received a B.A. (summa cum laude) from the University of Pennsylvania and an M.B.A. with honors from the Tuck School of Business at Dartmouth.