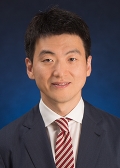 Sanghyun Lee is a Managing Director in Seoul.
Mr. Lee joined from Affinity Equity Partners where he was Managing Director leading the firm's investment effort in Korea. He had led a number of successful investments in Asia including TheFaceShop transaction in Korea. He was previously at Government of Singapore Investment Corporation (GIC) in charge of its private equity investments in Korea. Before that, Mr. Lee was a management consultant at McKinsey & Company in Seoul.
Mr. Lee, a native of Korea, was a graduate of Seoul National University and Harvard Business School. He was also a research student at the University of Tokyo.