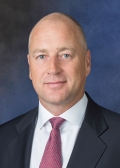 Sander van Maanen
Location
Hong Kong, China
Sander van Maanen heads the Hong Kong office and leads AlpInvest Partners' Co-Investment team. He is also a member of the Operating Committee.
Mr. van Maanen joined the firm in 2001 from the Boston Consulting Group, where he was a Project Leader on assignments for the Boards of multinational firms. Previously, he worked at Procter & Gamble, where he was responsible for new product development and the introduction of new consumer products in Europe.
Mr. van Maanen received an MSc in Chemical Engineering from Delft University of Technology and an MBA from INSEAD.