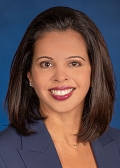 Samira Madhany is a Principal focused on U.S. real estate opportunities. She is based in Washington, DC.
Prior to joining Carlyle, Ms. Madhany was an Investments Associate at CarrAmerica Realty Corporation, where she specialized in acquisitions and dispositions.
Ms. Madhany received her MBA from Duke University and a BE from Vanderbilt University.