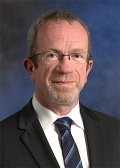 Rory Macmillan is a Managing Director with The Carlyle Group and Director of Global Government Affairs for Europe, the Middle East and Africa. Mr. Macmillan is based in London.
Mr. Macmillan came to Carlyle from Nike, Inc., where he was Director of Government and Public Affairs for the Europe, Middle East and Africa region. Prior to joining Nike, he held several senior positions in the international government relations and communications sectors, most notably with the L'Oréal Group, Cosmetics Europe, the European Toiletry & Cosmetic Industry Association and ISA, the International Food Industry Additives Association.
Mr. Macmillan is a graduate of University of Dublin, Trinity College, where he earned his master's degree in economics.
Mr. Macmillan remains an active member in numerous prominent business organizations. Currently he is Chairman of the board of EPER, the European Private Equity Round Table, as well as a member of the board at Invest Europe, the European Private Equity Association. He also serves on the board of World Child Cancer, an international non-profit association that supports some of the poorest children worldwide to access cancer diagnosis, treatment and care.