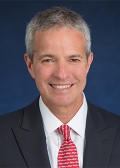 Rodney S. Cohen is a Managing Director and Co-Head of Carlyle Growth Partners and Carlyle Equity Opportunity Fund, which represent the U.S. smaller and middle market buyout activities of The Carlyle Group. Mr. Cohen is based in New York.
Prior to joining Carlyle in 2010, Mr. Cohen was with Pegasus Capital Advisors, a middle-market investment firm with approximately $2 billion of assets under management, where he was a Co-Managing Partner.
In his two decades of private equity investing, operational restructuring and legal advisory work, Mr. Cohen has invested in a variety of sectors including commodities, natural resources, media, consumer, financial services, security and industrials.
Mr. Cohen joined Pegasus in 1996. From 1993 to 1996, he consulted and managed several diverse business ventures. Prior to that Mr. Cohen practiced law with Anderson Kill Olick and Oshinsky P.C.
Mr. Cohen earned his J.D. from Columbia Law School where he was a Harlan Fiske Stone Scholar and his B.A. from Franklin and Marshall College.
He serves as a trustee and executive committee member of the Randall's Island Sports Foundation, a director of FLEOA - Federal Law Enforcement Officers Foundation, on the Franklin and Marshall Leadership Council and as a board member of the After School All Stars.