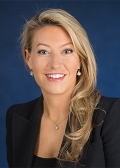 Reston Blumwest is a Principal in the Investment Solutions team, where she is responsible for fundraising and business development in North America for AlpInvest Partners. She is based in New York.
Ms. Blumwest joined Carlyle from Apollo Global Management, where she was a member of the Marketing and Business Development Team from 2007 until 2014. Prior to that time, from 2003 to 2007, Ms. Blumwest was responsible for the fundraising and investor relations at FORT Investment Management, a Managed Futures Fund and systematic CTA based in Chevy Chase, MD.
Ms. Blumwest graduated with Distinction from the University of Virginia with a B.A. in Economics and in English Language & Literature. She is a CFA charter holder.