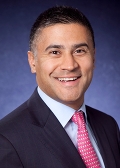 Ram M. Jagannath is a Managing Director with U.S. Buyout, focusing on investments in the healthcare sector.  He is based in New York.
Since joining Carlyle in 2007, Mr. Jagannath has been actively involved with Carlyle's investments in Ortho Clinical Diagnostics, Pharmaceutical Product Development (PPD), Healthscope Ltd. and HCR ManorCare.
Prior to joining Carlyle, Mr. Jagannath was with Genstar Capital and Thomas Weisel Capital Partners (now Tailwind Capital) in San Francisco.
Mr. Jagannath received an M.B.A. from Northwestern University Kellogg School of Management, a J.D. from Northwestern University School of Law and a B.S.E. in biomedical and electrical engineering with a minor in economics from Duke University.  After Duke, he completed post-graduate research in economic development as a Fulbright Scholar at the University of Zagreb in Croatia.
Mr. Jagannath currently serves as a member of the Board of Directors of Ortho Clinical Diagnostics and PPD and is also a term member of the Council on Foreign Relations.