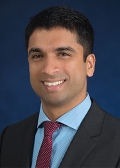 Rahul Culas is a Managing Director and Co-Head of the Energy Credit  group. He is based in New York.
Prior to joining Carlyle, Mr. Culas was in the Project and Structured Finance Group at Morgan Stanley where he was responsible for financing projects and companies across the energy complex including upstream oil and gas assets, midstream pipelines and gathering systems and traditional and renewable power generation assets. He was also a Director on the Board of BrightSource Energy. Prior to joining Morgan Stanley, Mr. Culas was with Goldman Sachs in its Commodity Finance Group.
Mr. Culas holds a bachelor's degree in mechanical engineering from the Indian Institute of Technology (IIT), Bombay, and a master's degree in computer science from Carnegie Mellon University.