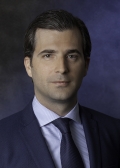 Philip Viergutz is a Principal in the Investment Solutions team in New York, leading investor relations globally for AlpInvest's commingled fund clients and overseeing corporate development and fundraising activities in the Americas. He joined AlpInvest's Secondary Investment team in Amsterdam in 2008 and executed numerous transactions in Europe before transferring to his current role in 2015.
Mr. Viergutz previously worked at HarbourVest Partners in Boston focusing on private equity investments; at Lazard Frères & Co. in New York advising on mergers and acquisitions; and at Brown Brothers Harriman & Co. in New York making mezzanine investments.
Mr. Viergutz received a BSE in Operations Research and Financial Engineering from Princeton University and an MBA from INSEAD.