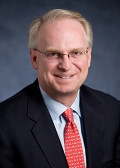 Peter J. Clare is a Managing Director, Co-Chief Investment Officer and Co-Head of the U.S. Buyout group. He is based in Washington, DC and currently manages Carlyle's two largest active private equity funds: Carlyle Partners VI ($13.0 billion) and Carlyle Partners VII ($18.5 billion). He is a member of the firm's Management Committee.
Since joining Carlyle in 1992, Mr. Clare has played a leading role in several of Carlyle's most successful investments, including ARINC, Aviall Inc., Avio S.p.A, Booz Allen, Landmark Aviation, Standard Aero, United Defense Industries, Inc. and Wesco Aircraft. From 1999 to 2001, he was based in Hong Kong as a founding member of the Carlyle Asia Buyout team and continues to serve on the Carlyle Asia Buyout investment committee. In 2001 and 2002, he launched Carlyle's initial investments in distressed debt, which led to the creation of Carlyle Strategic Partners. From 2004 to 2011, Mr. Clare served as the Global Head of the Aerospace, Defense and Government Services sector team.
Prior to joining Carlyle, Mr. Clare worked with First City Capital Corporation, a private equity group which invested in buyouts, public equities, distressed bonds and restructurings. Prior to joining First City Capital, he worked with Merchant Banking Group of Prudential-Bache. Mr. Clare is a magna cum laude graduate of Georgetown University and received his MBA from the University of Pennsylvania's Wharton School.
Mr. Clare is a member of the boards of Booz Allen Hamilton and The Carlyle Group and previously served on the boards of CommScope, Inc., Pharmaceutical Product Development, Sequa Corp. and Signode Industrial.