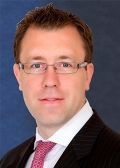 Peter Garvey is a Managing Director at The Carlyle Group and Co-Head of Carlyle's Ireland Fund. He is based in Dublin, Ireland.
Mr. Garvey focuses on growth capital and buyout investment opportunities in the Irish market. Mr. Garvey is a member of the boards of the holding companies of The AA Ireland, Payzone Ireland, Abtran and GSLS.
Mr. Garvey has more than 20 years of experience across private equity, management consulting and both leverage and corporate finance. Prior to joining Carlyle in 2014, Mr. Garvey was with the Private Equity Group of Goldman Sachs Asset Management. He joined Goldman Sachs from McKinsey and Co., where he provided strategic advice and due diligence services to leading financial services and private equity firms across the globe. He started his career with KPMG in Dublin.
Mr. Garvey received a BA (Hons) in economics and finance from Trinity College, Dublin and is a Fellow of the Institute of Chartered Accountants in Ireland.