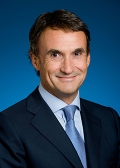 Pedro de Esteban
Location
Barcelona, Spain
Pedro de Esteban is a Managing Director advising Carlyle's funds on European buyout opportunities. He is based in Barcelona.
Prior to joining Carlyle, Dr. de Esteban was Managing Director of Europatweb in Spain; Managing Director of Novae, a private turnaround firm; Executive Director at Goldman Sachs & Co. in the Investment Banking and Principal Investments areas; and a Senior Consultant at Boston Consulting Group.
Dr. de Esteban received a degree in engineering from Universitat Politecnica de Catalunya, an M.B.A. from Stanford University and a Ph.D. summa cum laude from Universitat Ramon Llull. He is also a Fulbright Scholar.