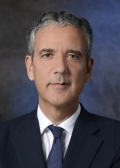 Paul de Klerk
Location
Amsterdam, Netherlands
Paul is the Chief Financial Officer and Chief Operating Officer of AlpInvest Partners and the Chairman of the Board. He co-founded AlpInvest, chairs the Operating Committee and is responsible for the investment portfolio valuation and review process.
Before joining AlpInvest, Paul was responsible for one of the largest corporate banking units at ABN AMRO in the Netherlands.
Paul received an LL.M. in tax law from the University of Amsterdam, an LL.M. in civil law from the University of Utrecht, and an MBA from Columbia University.