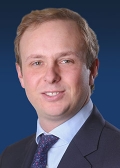 Pascal Emsens is a Managing Director within RSEF. He is based in London.
Prior to joining Carlyle, Mr. Emsens was a CEO of REDECO (Renewable Development Company), which is the renewable investment arm of AtlasInvest and also Portfolio Manager of AtlasInvest. He led all the renewable investments and portfolio management at AtlasInvest. He joined AtlasInvest in 2013 and is a conventional and renewable energy sector specialist with over 12 years' experience in the industry. Mr. Emsens has been leading, originating and exiting several transactions over the past years (Bluemerang Capital wind portfolio, DSUN, The Sniffers, New Southern Energy and Lexo Energy). Furthermore Mr. Emsens is responsible for the portfolio management of several conventional energy companies including WTS Energy and Lexo Energy.
Prior joining AtlasInvest, Mr. Emsens spent 8 years at EXMAR a leading shipping and offshore group serving the oil and gas industry as Senior Commercial Manager Offshore responsible for the West African Market. He concluded several significant projects with TOTAL, ENI and Sonangol.
Mr. Emsens recieved his Bachelor's degree in business administration from Lancaster University in the United Kingdom