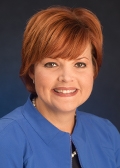 Pamela L. Bentley is Carlyle's Chief Accounting Officer.  Ms. Bentley is based in Arlington, Virginia.
Prior to joining Carlyle in 2005, Ms. Bentley was a Vice President of Finance and Investor Relations at TNS, Inc. (NYSE: TNS) and a Senior Manager at Arthur Andersen LLP in Washington, D.C.
Ms. Bentley received her  B.B.A. from the University of Michigan, Ann Arbor. She is a CPA and member of the AICPA.