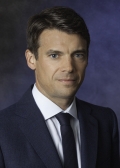 Noah Keys is a Principal at AlpInvest Partners. He is involved in the firm's energy, infrastructure and natural resources investment activities.
Prior to joining AlpInvest in 2015, Mr. Keys was an Executive Director in UBS Investment Bank's Global Energy Group. In this capacity, he was responsible for M&A and capital markets activities for companies in the oil & gas sector.
Previously, Mr. Keys was in the Natural Resources Group in the Investment Banking Division at Lehman Brothers and Barclays.
Mr. Keys received a BBA from the University of Texas at Austin and an MBA from the Tuck School of Business at Dartmouth College.