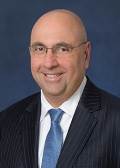 Michael W. Arpey is a Managing Director and the Head of Investor Relations at The Carlyle Group. He is based in Washington, DC. Mr. Arpey joined Carlyle in November of 2010 and is a member of the Firm's Management Committee.
From 2000 through 2010, Mr. Arpey was a Managing Director of Credit Suisse where he was a Co-Head of the Customized Fund Investment Group ("CFIG"). CFIG was Credit Suisse's private equity fund of fund group that focused on primary fund commitments, co-investments and seasoned primary fund commitments.
Previously Mr. Arpey was a Managing Director and Head of DLJ Merchant Banking's Customized Fund Investment Group and The Global Head of Private Equity at Prudential Insurance.
Mr. Arpey began his career with the State Treasury Department of Pennsylvania where he was a Trustee designee to the Pennsylvania Public School Employee Retirement System and the New York State Common Retirement Fund where he was Head of Alternative Investments. He earned his B.A. from St. Lawrence University and his J.D. from the Dickinson School of Law. He is a previous member of the St. Lawrence University Board of Trustees.