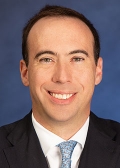 Michael S. Clifton is a Principal in the global Technology, Media & Telecom Buyout group. He focuses on investments in larger companies, including software, business services, semiconductors, cybersecurity, communications infrastructure and related distribution businesses. He is based in Washington, DC.
Mr. Clifton has been involved with the firm's investments in CommScope (original buyout and subsequent PIPE investment), Ampere Computing, ProKarma, Veritas Technologies, Syniverse Technologies, SS&C Technologies and Freescale Semiconductor.
Prior to joining Carlyle, he had experience in private equity and investment banking.
Mr. Clifton received an MBA with high distinction from Harvard Business School, where he was a Baker Scholar, and an AB cum laude from Davidson College. He is a member of the boards of ProKarma, Ampere Computing, and Syniverse Technologies.