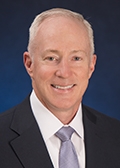 Michael Hart is a Senior Advisor in Direct Lending. He is based in New York.
Mr. Hart has over 20 years of capital markets, corporate finance, M&A, risk management, accounting and managerial experience. Prior to joining Carlyle in 2014, Mr. Hart was a Managing Director in the Financial Markets Advisory group at BlackRock Solutions, where he served as co-head of the U.S. advisory practice and was a member of the BlackRock Solutions Operating Committee. Prior to joining BlackRock Solutions, Mr. Hart spent 12 years with Morgan Stanley where his responsibilities included Global Co-Head of Leveraged and Acquisition Finance, Global Head of the Loan Products Group and Co-Chairman of the Firm's Capital Commitment Committee. Prior to joining Morgan Stanley, Mr. Hart worked at the Chase Manhattan Bank in the Merchant Banking Group where he originated and executed LBO financings for the firm's private equity clients.
Mr. Hart graduated with a bachelor's degree in accounting from Duquesne University and received his MBA from Duke University's Fuqua School of Business.