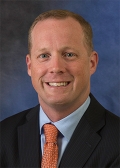 Michael G. Gozycki
Industry
Technology & Business Services
Michael G. Gozycki is a Managing Director focused on growth and middle market technology investing. Mr. Gozycki is based in Washington, DC.
Since joining Carlyle in 2007, Mr. Gozycki has been actively involved with current Carlyle portfolio companies Coalfire Systems, ECi Software Solutions,Net Health Systems and NetMotion Software.
Mr. Gozycki was also a member of the transaction teams that executed Carlyle's investments in Archive Systems (sold to Access Information Management), Compusearch (sold to a syndicate of private equity firms), Primatics Financial (sold to SS&C Technologies (NASDAQ: SSNC)), Quorum Business Solutions (sold to Silver Lake Partners), Schoolnet (sold to Pearson plc (NYSE: PSO)), Service King (sold to Blackstone), among others.
Prior to joining Carlyle, Mr. Gozycki held a variety of roles with Staples, Inc., focusing on supply chain strategy, acquisition integration and fulfillment operations. Prior to Staples, Mr. Gozycki worked for Siebel Systems and directed the implementation of Customer Relationship Management (CRM) solutions for Fortune 50 clients in the aerospace, energy and telecommunications industries. Mr. Gozycki also worked in Arthur Andersen's Government Consulting Practice.
Mr. Gozycki received an M.B.A. from the Tuck School of Business at Dartmouth, where he was a Research Fellow in the Glassmeyer/McNamee Center for Digital Strategies and an A.B. in History from the College of the Holy Cross.