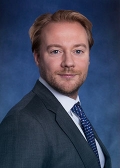 Merrill Goulding is a Managing Director with Carlyle Strategic Partners, focusing on distressed and special situations investment opportunities. He is based in London.
Prior to joining Carlyle, Mr. Goulding was an Executive Director in the European Special Situations Group at Goldman Sachs in London, where he principally focused on making illiquid investments across the capital structure. Prior to Goldman Sachs, Mr. Goulding was employed by Cerberus European Capital Advisors in London, where he invested in both control and non-control distressed situations. He currently serves as a director on the boards of Bis Industries, Akari Care Group and Nationwide Accident Repair Services. Mr. Goulding began his career at Lazard & Co. in London.
Mr. Goulding received an MA in economics from University of Cambridge.