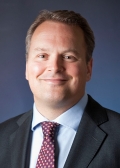 Matthew Cottrell is a Director advising on Europe Loans & Structured Credit. He is based in London.
Prior to joining Carlyle in May 2006, Mr. Cottrell was with Fitch Ratings. While at Fitch Ratings, Mr. Cottrell was a Director in the CDO group and covered cash flow arbitrage and synthetic CDOs. Previously, Mr. Cottrell worked in Fitch Ratings' credit policy group and also in the leveraged finance group where he was responsible for rating and analyzing European leveraged loan and high yield bond transactions. Prior to Fitch Ratings, he practiced as a banking lawyer in the international finance group at Ashurst, an international law firm.
Mr. Cottrell holds a B.Sc. (Hons) in mathematics and philosophy from Durham University and an LPC from the College of Law. From 1998 to 2002, Mr. Cottrell was a Solicitor of the Supreme Court of England and Wales and has been a CFA charter holder since 2004.