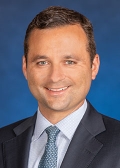 Mark C. Tamburello is a Principal for Direct Lending. He is based in New York. 
Prior to joining Carlyle, Mr. Tamburello was an Associate at Churchill Financial. Previous to that, Mr. Tamburello was at Olympus Partners, where he was responsible for reviewing, analyzing and structuring private equity investments. Before joining Olympus, Mr. Tamburello worked as an Investment Banking Analyst at Harris Williams & Co., where he focused on mergers and acquisitions of middle market companies. 
Mr. Tamburello received a BS in business administration with distinction from University of North Carolina.