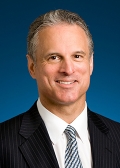 Mark J. Schoenfeld is a Managing Director for U.S. Real Estate. Mr. Schoenfeld is Carlyle's first real estate employee. He is based in Washington, DC.
Mr. Schoenfeld's focus is on U.S. real estate investment sourcing and raising equity/fundraising for Carlyle's U.S. real estate vehicles. He serves as Portfolio Manager for Carlyle Property Investors, a core plus investment vehicle, and he is a member of Carlyle's Real Estate Investment committee. His awards include Top 100 New York's Most Influential Real Estate Professionals.
Prior to joining Carlyle, Mr. Schoenfeld was a Senior Vice President at Perpetual Savings Bank, and before that he was a Managing Director at MNC Investment Bank, a subsidiary of Maryland National Bank/American Securities Bank.
Mr. Schoenfeld graduated from Michigan State University and was a member of Beta Gamma Sigma and Phi Kappa Phi.