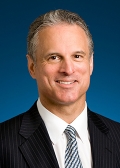 Mark J. Schoenfeld is a Managing Director focused on U.S. real estate opportunities. He is based in Washington, D.C.
Mr. Schoenfeld joined Carlyle in 1992 as Carlyle's first real estate employee. Mr. Schoenfeld's responsibilities include sourcing investment opportunities in Washington, D.C., New York City and Boston and also for sourcing hotel investments nationwide. Mr. Schoenfeld is a member of Carlyle's real estate investment committee and he also is part of Carlyle's team of fundraisers for its U.S. real estate funds.
Prior to joining Carlyle, Mr. Schoenfeld was a Senior Vice President of Asset Sales/Securitization at Perpetual Savings Bank and before that was a Managing Director at MNC Investment Bank, a subsidiary of Maryland National Bank/American Securities Bank.
Mr. Schoenfeld is a graduate of Michigan State University and a member of Beta Gamma Sigma.