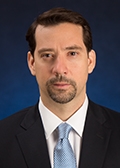 Marco Peschiera is a Managing Director and Head of the Peru advising team. He is based in Lima.
Prior to joining Carlyle, Mr. Peschiera served as Managing Director and Head of Latin America Diversified Industrials at Citigroup Global Markets based in New York City. Prior to that, Mr. Peschiera was assigned as Head of European Metals and Mining based out of London for three years. Prior to that, he worked at Salomon Smith Barney as M&A execution Vice President for the Latin America Group based out of New York City.
Mr. Peschiera received his M.B.A from The Wharton School of the University of Pennsylvania. He obtained his B.S. from the Universidad de Lima. He is fluent in Spanish and English.