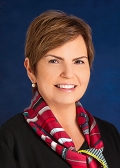 Lori R. Sabet is a Managing Director and Carlyle's Chief Human Resources Officer. In this position she is responsible for developing and executing the firm's global human resources strategy.  Ms. Sabet also oversees corporate global real estate and administration.  She joined the firm in 2000 and is based in Washington, DC.  She is a member of the Firm's Management Committee.
Under Ms. Sabet's leadership, Carlyle's Global Human Resources team is responsible for providing strategic and innovative guidance in the areas of leadership and succession planning, incentives and rewards, learning and performance, diversity and inclusion, recruitment strategies, employee engagement, and organizational development. She is actively involved in several human resources organizations and roundtables, and is a frequent speaker and panelist on global human resource-related topics. Ms. Sabet is on the board of Dress for Success-DC, Marymount University's Board of Visitors School of Business Administration, and a governing body member for the Washington, DC Human Resources Leadership Summit.
Ms. Sabet earned a B.A. in public administration and human resource management from St. Cloud State University and holds a Master's Degree in human resource management from Marymount University.