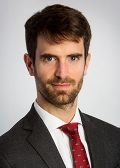 Lois Duhourcau is a Director focused on Credit Opportunities. He is based in London.
Prior to joining Carlyle, Mr. Duhourcau was a Research Analyst at GoldenTree Asset Management LLP, focusing on credit and equity investments. Prior to that, he was a Research Analyst at Canyon Partners LLC. He began his career at Morgan Stanley and Barclays.
Mr. Duhourcau received a B.Sc. in International Management from The University of Manchester. He is a CFA Charterholder. He is fluent in French, English and Spanish.