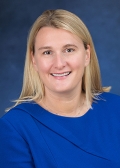 Lauren Dillard is a Managing Director and Head of Carlyle's Investment Solutions Group, where she also served as Chief Operating Officer and Chief Financial Officer.  She currently serves on the Firm's Management Committee and is a board member of AlpInvest Partners.  
Since joining Carlyle in 2002, she has held a series of positions including Head of Global Tax Department and Head of Global Equity Programs.  She was a member of the Firm's Transaction Team where she played a significant role in transactions, including the Firm's initial public offering. 
She is also the recipient of the prestigious One Carlyle Award in recognition of her contributions to and support of the Firm's collaborative culture.
Ms. Dillard also serves on the Board of SL Green Realty Corp.
Prior to 2002, she served in the Real Estate and Financial Services Group of the Tax Practice of Arthur Andersen, LLP.
Ms. Dillard received her B.S. in business administration from the University of Richmond and is based in New York.