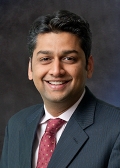 Karthic Jayaraman is a Managing Director and Co-Head of Carlyle Global Partners. He is based in London and has a focus on investments in Europe. Prior to that, he led Carlyle Europe Partners investments in the healthcare sector. Most recently, he has been a member of the boards of Schön Klinik and Alloheim.
Prior to joining Carlyle, Mr. Jayaraman worked at Credit Suisse in investment banking and at Schlumberger Limited as a Field Engineer.
Mr. Jayaraman received his bachelor of engineering from The University of Sydney, Australia and his MBA from Harvard Business School.