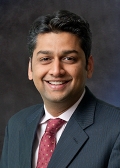 Karthic Jayaraman is a Managing Director advising on investment opportunities in Europe for Carlyle Global Partners and opportunities in the healthcare sector for Carlyle Europe Partners.   He is based in London. 
Prior to joining Carlyle, Mr. Jayaraman was at CSFB in the Investment Banking Group. Prior to that he was an Engineer at Schlumberger Limited.
Mr. Jayaraman received his Bachelor of Engineering from The University of Sydney, Australia, and his M.B.A. from the Harvard Business School.