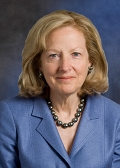 Karen H. Bechtel is a Managing Director and former head of the Global Health Care team based in New York.
Ms. Bechtel serves as a member of the Boards of Directors of Ortho Clinical Diagnostics, HCR-Manor Care, Pharmaceutical Product Development (PPD),  Healthscope Limited (prior), Grupo Qualicorp (prior), Multiplan (prior) Lifecare (prior).
Prior to joining Carlyle, Ms. Bechtel was at Morgan Stanley & Co., Incorporated for 28 years. As Managing Director of Morgan Stanley's Private Equity Group, Ms. Bechtel was a member of the investment committee responsible for approving all investments in the $3.1 billion Morgan Stanley Capital Partners IV Fund and led all of the healthcare investments. Ms. Bechtel was also Co-head of the Financial Sponsors Group; head of the Corporate Restructuring Group; founder and head of Princes Gate Private Equity Investors, a $650 million bridge equity fund; and Managing Director in the Mergers and Acquisitions Department.
Ms. Bechtel earned her M.B.A. from Harvard Graduate School of Business and her B.A. in mathematics from the University of Texas at Austin where she was Phi Beta Kappa.