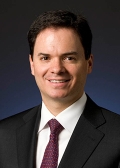 Juan Carlos Felix
Location
São Paulo, Brazil
Juan Carlos Felix is a Managing Director advising on buyout opportunities in South America. He is based in Sao Paulo, Brazil.
Prior to joining Carlyle, Mr. Felix was a partner at McKinsey & Company working with management consulting with focus on financial institutions. Prior to that, Mr. Felix pursued various entrepreneurial ventures in South America in the media industry.
Mr. Felix received his M.B.A. from Harvard Business School. He received an economics degree from the PUCE University in Quito, Ecuador.