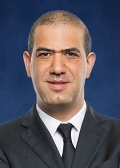 Jonathan Zafrani is a Managing Director advising on European buyout opportunities. He is based in Paris.
Mr. Zafrani joined Carlyle in 1999 and has been a Managing Director since 2013.
Currently, Mr. Zafrani serves on the boards of Innovista Sensors, European Camping Group, Saverglass and ADB Safegate. He previously served on other portfolio companies' boards, including Sagemcom, Numericable, Sermeta, Otor, Terreal, Com Hem and Waterpik & Zodiac Marine & Pool. He was an observer on the boards of Casema and B&B. Mr. Zafrani is also a board member of AFIC (Association Française des Investisseurs pour la Croissance).
Mr. Zafrani is a graduate of HEC Paris.