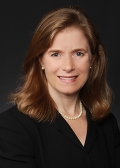 Jill Wight is a Principal with the Carlyle Equity Opportunity fund. She focuses on portfolio company management and operational improvement initiatives. She is based in New York.
Prior to joining Carlyle, Ms. Wight was with Goldman Sachs, where she led the Portfolio Operations team for the Special Situations group. Earlier in her career, Ms. Wight worked at GSC Partners, Bain & Company and Marakon Associates.
Ms. Wight received an MBA with distinction from The Wharton School at the University of Pennsylvania and holds a BA from Yale University.