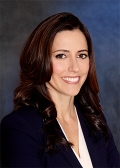 Jessica Hoffman Brennan is a Managing Director and Partner at the Carlyle Group. Jessica is responsible for investor relations and business development in the northeastern United States and works with many of the firm's investors, including sovereign wealth funds, public pension funds, insurance companies, ultra-high net worth family offices and several separate accounts. 
Previously Ms. Brennan was a Managing Director in the Credit Suisse Private Fund Group in New York. Over her 20-year career she has worked on hundreds of different alternative investment vehicles and programs, including: private equity/buyout, growth equity and venture capital; alternative credit/senior, mezzanine, distressed and ABS; real assets/real estate, infrastructure and energy; liquid alternatives; and secondaries, coinvest, customized separate or strategic accounts. Ms. Brennan joined Donaldson Lufkin & Jenrette in 1999 from Deutsche Bank's Private Equity Group.
She holds an M.B.A. in finance from The Wharton School, The University of Pennsylvania and an A.B. degree in economics and literature from the University of Michigan.
Ms. Brennan is on the Women's Leadership Board of Women and Public Policy at the Harvard Kennedy School. She serves on the Dean's Advisory Council of the University of Michigan's Literature Science & the Arts College. She is also a board member of I-WIN, the Insurance-Women's Investment Network; a founding member of Plum Alley, a women's angel/VC investor network focused on social impact investing; and a member of the NY Women's Forum.