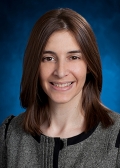 Jennifer S. Haaz is a Principal focused on investment opportunities in the homebuilding and building products, real estate and consumer and retail industries. She is based in New York.
Prior to joining Carlyle, Ms. Haaz spent four years at Katonah Capital investing in high-yield bonds and leveraged loans. Prior to that, she was an Analyst in ABN Amro's high-yield group. Ms. Haaz started her career as a member of CIBC Oppenheimer's Healthcare Investment Banking group.
Ms. Haaz received her BA from Brandeis University.