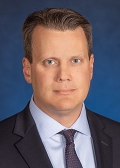 Jeff Marvaldi is a Principal in Investor Relations. He is based in New York.
Prior to joining Carlyle, Mr. Marvaldi was a Vice President with the Alternative Strategies group of Wells Fargo, where he was responsible for private placement fundraising.
Before joining Wells Fargo, Mr. Marvaldi was with UBS, where he was a Director in Structured Products and Alternative Investments.
Mr. Marvaldi entered the investment management industry as a Merrill Lynch Financial Consultant. He was part of an Institutional Advisory Division team that advised affluent individuals, family offices and middle market institutions.
Mr. Marvaldi is a graduate of Bowling Green State University. He holds Series 7, 31, 63 and 65 licenses. Mr. Marvaldi is a member of the Investment Management Consultants Association. He maintains state registrations in DC, IL, IA, KS, KY, MI, MN, MO, NE, NY, ND, OH, SD, TN and WI.