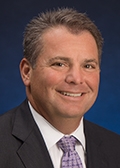 James F. Burr is a Managing Director in the Global Financial Services Group. Mr. Burr is based in New York. 
Mr. Burr comes to Carlyle from Wachovia Bank, where he was the Corporate Treasurer. He joined Wachovia Bank in 1992 and has served in several senior positions, most recently as Corporate Treasurer since 2006, where he was responsible for activities relating to funding, investing, risk transference, balance sheet management, liquidity and capital usage. Other Wachovia positions include Assistant Treasurer, Controller of the Corporate and Investment Bank, Product Controller of Treasury/Balance Sheet Management and Structured Products and Mortgage Analyst. Mr. Burr began his career at Ernst & Young, where he was a C.P.A. focused on banking and computer audit issues.
Mr. Burr earned his B.S. in business administration from Appalachian State University.
He was a CPA in the state of North Carolina from 1994 to 2007.